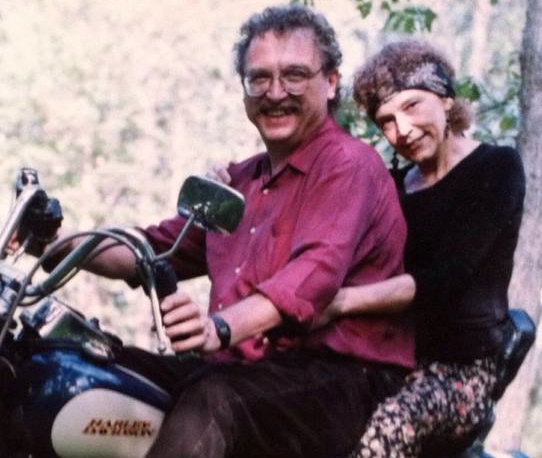 [If *you* have remembrances or condolences you'd like to add, please go to Wilson Station's Dawn Herrin Memorial Page and offer them.]
Due to the rapidity of face book communications and so on, I post this tonight without much polish or time to ponder, just wanting my friends and Jesus People USA's friends to know about the passing of someone incredibly dear to us. Dawn Mortimer, whom most of us consider to be the best human expression of the heart of our JPUSA community, passed away this afternoon due to emphysema-related complications. She was 80 years old.
Dawn is survived by her three children, John Herrin, Wendi Kaiser, and Katherine Williams, along with many grandchildren and great-grandchildren. (I'll try to get a more complete list of those children soon.)
For now, I have only this very homely prayer which I wrote moments after Wendi told me of Dawn's passing.
-=-
Dawn Mortimer, Mentor and Friend – March 27, 2014
Jesus, you took someone away today I can barely fathom is gone. Other than you yourself, there is no person to whom I owe a greater debt than Dawn Mortimer. My spiritual life is rooted not only in your words but also in her life-long expression of those words. She loved you. What else would she want, but to be remembered that way?
Love's debt cannot be repaid, Jesus. Ever. And looking at my friend's body, her family gathered around her trying to cope with the strange rip-tides of both grief at losing her and joy at her liberation, I found myself thinking of you. Like my wife, or even like this strange little band of cast-offs living in a commune, I encountered you so clearly through her.
I know you had to take her… she'd only have ended up in the hospital for her last days otherwise, helpless in the hands of people she wouldn't have known. Instead, in the early afternoon of this drizzly Chicago day, she was tucked in by her loving Curt and fell asleep. Later, Curt tried but couldn't wake her; Dawn's body, long ravaged by the effects of emphysema, couldn't hold her any longer and she'd slipped away without a whisper.
For a significant part of my younger years, Dawn was my friend but also sparring partner, idea-wise and theology-wise. Back in the late 70s and early 80s, her forty-something gentle southern womanhood was hard-pressed by my twenty-something impatient and arrogant maleness. But she was stronger than she looked. And maybe your spirit helped her, because I lost most of those battles…. And I learned about loving others. Our friendship deepened. And when she told me about her emphysema, all I could do was plead with you "Not yet! Not yet!" And you heard me, heard her husband and her children and other long-term JPUSA members. We really weren't ready to let her go… and by your Grace she stayed. But we knew she couldn't stay forever….
She was one of those persons unknown to the world at large (and preferring it that way), yet you know better than I do that she sometimes struggled to feel her own significance. That always struck me strangely indeed, Lord, because in my simple version of relational mathematics Dawn represented the most transparent, honest, mature, and real expression of Agape I knew in another human being. Down here, anyway.
Now she's with you. That's either true, or it isn't. We believe it is. And like her, we will prayerfully do our best to live and love as though we believe it is.
THANK YOU Lord for Dawn. One life. And without that life, there would be no JPUSA community, no CCO Shelter, no Cornerstone Festival's many years of changing lives, none of the lifelong bonds and friendships we share… no, without her life, my life would have been immeasurably poorer. Your life shone through hers… and simply, humbly, we are so grateful.