Jim Palosaari, who with his first wife Sue founded Jesus People Milwaukee, passed away May 25 of an apparent heart attack.
For a brief but fairly thorough account of Jim's life and influence, see Wikipedia.
As news of Jim's passing spread via face book, those of us who knew him or who have been influenced by his vision remembered him there. Jim's life had great significance, and we who benefited from it want to remember him.
What follows are a collection of those comments, along with a few photos old and not so old of Jim and some of his friends. "Jedidiah" is one of Jim's sons; many of the comments are addressed to him. But first, JUST ADDED today (May 31) the official obituary on the front to start things off…
–
James "Jim" Michael Palosaari (1939-2011) was an evangelist and one of the leaders in the Jesus Movement of the late 1960s and 1970s.
Jim was a first generation Finn whose father emigrated through Ellis Island, N.Y., born to John Palosaari and Sara [Bishop LaVeck] (of Irish descent), in the Upper Peninsula of Michigan. Jim grew up on a goat farm near Oconomowoc, Wisconsin, where he attended Oconomowoc High School. He spent his early adult years in the Chicago and the Detroit theater, including The Unstabled Theater run by Edith Carroll Canter and Woodie King, Jr.. (Actress Lily Tomlin got her start in the same theater company the year Jim joined). He married Joyce Warner in Detroit (1962), and moved to New York (Long Island) with his wife and stepson, Michael. This union produced one son, Kent, and following their divorce (1967), Jim and Jeanette Palosaari became parents of a daughter in California.
Jim and his then-girlfriend, Susan Cowper, became Christians in Seattle, Washington during the Jesus Movement of the late 1960s. Discipled by Linda Meissner, Jim and Sue helped to form the nucleus of the Jesus People Army, establishing outposts in Yakima and Spokane, Washington, Boise, Idaho, and Vancouver B.C. with Russell Griggs. They were married in 1970, and traveled to Milwaukee, Wisconsin at the end of that year. Back on the West coast, Meisner and Griggs joined their ministries with the Children of God, later called the Family International, although Jim unsuccessfully tried to dissuade them.
In Milwaukee, Jim and Sue began a coffeehouse, "The Brady Street Power House," Sue started a newspaper, "Street Level," Jim developed a new band, "Sheep," and they began a communal school called "Jesus People Discipleship Training Center" which grew to 200 members. In 1972, 60 members were sent to join Bill Lowery's tent ministry, "Christ is the Answer" (CITA), and a team of 30, including the band Charity, were sent out, later to reemerge in Chicago as JPUSA and "Rez Band". Earlier revivals in Racine, WI, and Duluth, MN, now became autonomous communes.
The Palosaaris and thirty members flew to Sweden as guests of the Full Gospel Businessmen's Association. Upon arrival, the group spent substantial time in Finland, where Jim preached in Temppeliaukion Kirkko, the Stone Church in Helsinki. Sheep produced its first record in Helsinki, Finland, in Finnish. From there the group toured for the next six months through Western Europe, including Germany and the Netherlands. The Jesus People entered Great Britain in the fall of '72 to participate with Russell Griggs and David Hoyt in an expose of the Family International at the invitation of financier Kenneth Frampton. With Frampton's backing Jim, Dave and the group now calling itself the "Jesus Family", enlarged by half, created the rock musical, "Lonesome Stone," a musical history of the early "Jesus Freaks." The musical opened at London's Rainbow Theatre, eventually touring Great Britain and American air force bases throughout Germany, as well as Canada and the American Midwest, before closing four years later. While in England, Jim, Kenneth Frampton and British national, James Holloway, started what was for many years the largest Christian music festival in the world, Greenbelt.
A year later, the Palosaaris, Owen and Sandie Brock, and Paul and Lydia Jenkinson met to form another commune on Vancouver Island, B.C., Canada calling themselves "Highway Missionary Society." They traveled, showing the movie Brother Sun, Sister Moon, about the life of Saint Francis of Assisi and quickly formed a nucleus of disciples. Jim put together the rock band Servant, which became the first Christian rock band to use lasers and an extensive light show. Servant produced six records and traveled throughout the U.S., Canada, and Great Britain, giving Petra their start when Petra opened for them. Eventually the now enlarged communal group settled in Grants Pass, Oregon on land next to the Applegate River, where their interest in Christian community was supported through farming, work in town, and tree-planting. With Sue's effort, the community now formed a children's school. The new community sponsored Vietnamese and Laotian refugees coming into the country in the early '80′s. At this time Jim also began Rooftop Records, producing one Servant album and sponsoring two other artists. Jim was the head elder of a council made up of men and women, developing their ideals of community, missionary work, and evangelism.
In 1981 Jim's second oldest son, Seth, died in an automobile accident with two other members of the community. Two years later, the Palosaaris left to study and work with YWAM on the Big Island of Hawaii, and Oahu. Returning to the mainland where a last child was born, Jim worked in Texas with CITA, which he would continue to return to periodically over the next decade. He also promoted new Christian rock groups, including Newsboys, PID, and Whitecross.
In 1992 Jim and Sue divorced. Jim eventually married Susan Mattson, who died in 2008. During this time Jim worked extensively in charitable fundraising. He narrated the movie Frisbee: The Life and Death of a Hippie Preacher, the story of one of the earliest and most well-known Jesus Freak leaders, Lonnie Frisbee, released in DVD form in January, 2007.
In March of 2011 Jim married Jo Sappenfield whom he met back in the days of the Jesus People Army. They lived in Jim's native state of Wisconsin until his death on May 25th, 2011.
-end of official obituary
– + –
Comments from those who knew Jim, along with some photos…
IN 1971…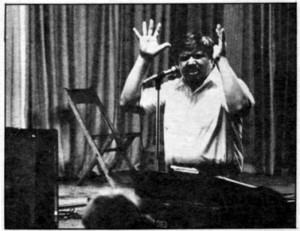 IN 2010…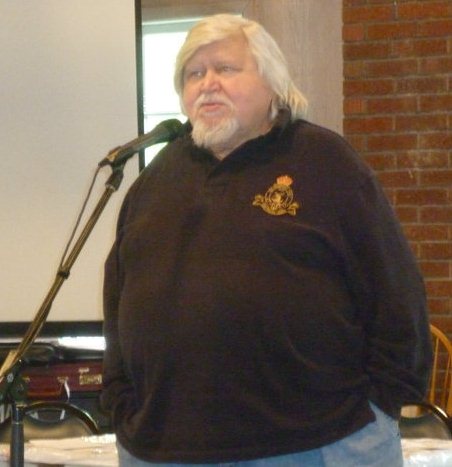 SOME THINGS NEVER CHANGE.
– + –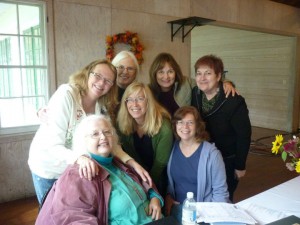 Jim Palosaari was my friend and one of the most influential people in my life. Because of him, I have a ministry with children and because of him I am walking in my calling as an evangelist. I know he is with Jesus and I will see him there sometime soon. I am so glad we had time together a few weeks ago. My love and prayers to Jo and his children, both physical and spiritual.
Lynn Malmberg
In 1971, Jim kept me from running from Jesus. For that, I am eternally grateful. Because of Jim and the Holy Spirit, I get to sing and preach the Word of God. Thank you, Jesus for putting Jim into my life. No, he wasn't perfect. None of us are. We will meet again, my friend….
Mary Ann Damrow
So thankful we had a recent celebration for Jim & Jo. Jim thought we all should 'roast' him, but we had a nice remembrance time and, of course, Jesus music! Thank you, Jenny & Bob for hosting. See you on the other side, my brother Jim. Many prayers for my new sister, Jo and her double loss.
Shereen Gauger Chesney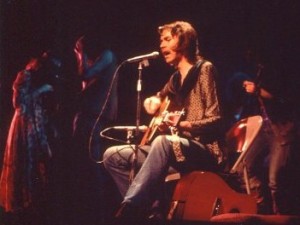 Farewell, old friend and brother, Jim Palosaari. See you soon again, I hope. Thanks for being a big part of my earlist Christian years and leading us on the Royal quest…to serve the King (though we all failed him at times, we were always in the palm of His Hand). R. I. P. Rejoice In Paradise.
Greg Nancarrow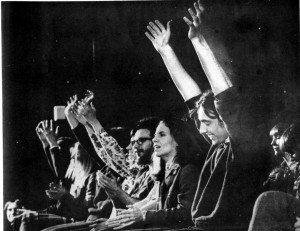 I was with Jim from day one of the Milwaukee Jesus People. God moved in amazing ways through this man. Somedays , when I am in my office all day and getting bored I call him.The conversation is ALWAYS interesting and there is laughter. I will miss him.
Michael Damrow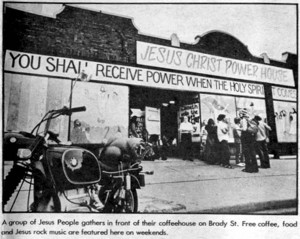 Jim, you were an inspiration and an obedient servant. There will be many names in the Book of Life as a result of your work. We'll celebrate when we all meet up again. Bless you, and welcome home, good and faithful servant.
In so many ways, Anne and I owe Jim for our salvation – if he'd not led the group to the UK we might never have met the Lord. I guess Anne is welcoming him right now in heaven. My thoughts are with all who knew Jim and especially with his family.
Steve Clark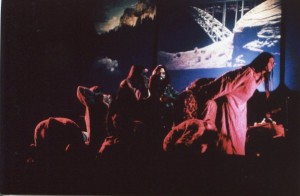 Jim Palosaari, like a dad to many of us in the early 70′s, has graduated to heaven, and is with the Lord now. Jim was an amazingly charasmatic person and led many, many souls to Christ. Sorry for the loss of your dad, Palosaari kids. And to Jo, Jim's new wife who just suffered another tragedy, our hearts go out to you.
One more thought about the early days, Jed. When your parents came to the Billy Graham services in Chicago, and I a new Christian working out at O'Hare Airport, I was desperately searching for a place where I could serve the Lord 'full time'. Then I met the Milwaukee Jesus People, where your dad encouraged us to 'forsake all and follow Christ'. It was the happiest year of my life, and almost forty years later, I am still following Jesus, as many, many people still are, and in an off shoot of your dad's first ministry, here in Chicago, at Jesus People USA.
Carol Trott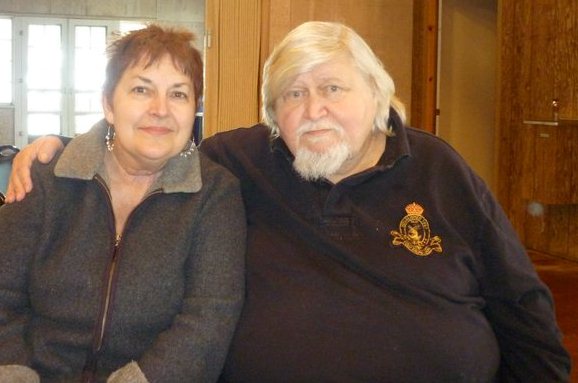 Jed, I can't imagine where my family and I would have been without the Jesus People in Milwaukee — without Jim and Sue. JP Milwaukee gave my family and me a sense of coming home… That sense of nestling under the wing of God in the midst of His people is what I'd lived for all my life. A big thanks to God's dream, to your Mom, and especially at this time to your Dad.
Dawn (Herrin) Mortimer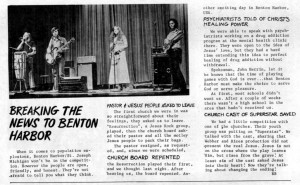 It was a coffeehouse concert event where I answered the call to a new life. The Sheep played and shared testimony then a robust bearded man said no matter what you have done or what has been done to you you can be a new person with a new life, a different life. It was like an arrow piercing my heart. I could hardly keep my composure and sought refuge in the ladies room to settle down. After a big gulp of water and a look in the mirror I walked out thinking never to return to that coffeehouse. A christian sister, Arlene tapped me on the shoulder asking me if I wanted to talk. That was in September, 1971. I have been serving Jesus since then. "They overcame him by the blood of the Lamb and by the word of their testimony; they did not love their lives so much as to shrink from death." Rev 12:11 NIV
Sincerely, Wendi Kaiser
I am sorry for your loss, May the Lord be with you all. Even though i never met Jim personally I have lived in all three of the groups that began because of His calling. [Rosalie refers here to Christ is the Answer, Highway Missionaries, and currently Jesus People USA. -eds]
Rosalie Johnson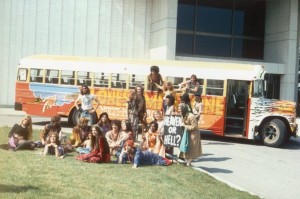 He was a radical lover of Jesus.
Frank McAvinchey

Your dad had a great impact on the lives of thousands of people, Jed. Because of ministries like HMS, Milwaukee Jesus People, The Sheep, Lonesome Stone… and of course Servant. So many people came to know Christ. Servant wouldn't even be playing at Cornerstone had it not been for your father.
Eric Odell
Jedidiah, thanks for keeping us informed. I am very sorry to hear about his passing. He was loved & appreciated by many & his influence was widespread. I have fond memories of him at the Catacombs Coffeehouse in Seattle. His leadership was important in the early days of the Jesus People movement there. My prayers go out to his wife, Jo. She was the first person who ever boldly witnessed to me about Christ, back in high school.
Doug Hjellen
Allow me to join Doug and Robert from the then-Seattle area group in offering condolences and an expression of deep joy at Jim's VICTORY in Christ. I remember a speech he made at the Catacombs in 1970, entirely extemporaneously, commenting on the contrast between dead institutional religion and a relationship with God. As he spoke his emotion and the depth of his feeling rose gradually as his reasoning culminated logically. It is not, he held forth, the trappings of religion, the forms of worship nor the archetecture that ecoes our reverence that makes a "church." ~ "I have erected a temple to my savior," he triumphed, his voice at nearly full volume in his intensity, "and that temple IS ME!" James Palosaari 1939- 2011, a warrior in the battle for the souls of men.
Doug Parris
Sue Linda and I still remember those good times when we had the priveledge of having you and your family on the YWAM base in Honolulu and trading Jesus Movement war stories. You both were a great encouragement to me in those days.
Danny Lehmann
We thank God for allowing you to be part of our lives, a great influence in our family, and in the lives of many, many others. We will see you soon, Brother Jim!
Cindy Brady
Jed. We received with sadness this afternoon information of your father's passing. Sandie and I have many fond memories of the work we did together. Your father led me to Christ, and I am pretty darn sure there would not have been a community or a band without his inspiration. He was truly a pioneer.
Owen Brock
Because Jim and Sue and your team came to Davenport my brother is in heaven….. because you came I am in the ministry……. hundreds will be in heaven… blessings to all see you soon!!
Daniel Scalf
Met Jim in the UK during the Lonesome Stone days. Incredible man …
David Shaw
I will always appreciate the work he did introducing so many to the light and love of God through Christ. I shed tears as do the many, yet knowing he is doing more than fine!
Lisa Redmond Irons
(We encourage more folks to comment here on Jim's impact on their lives!)