[Before reading part 2, did you read Wild History: Jesus People USA's Wilson Abbey from Auto Dealership to Strip Club to New Uptown Gem Part 1?
Jesus People USA, the intentional Christian community located in Uptown Chicago, has finished a gut rehab of an historic building located just across the street from their 920 W. Wilson headquarters. This is part 2 of "Wild History: JPUSA's Wilson Abbey from Auto Dealership to Strip Club to New Uptown Gem." For upcoming events and other information about the Abbey today, visit the official and still-evolving JPUSA Wilson Abbey page.
WILSON AVENUE, Chicago, is not merely an avenue but a district; not only a district but a state of mind; not a state of mind alone but a condition of morals. For that matter, it is none of these things so much as a mode of existence. If you know your Chicago—which you probably don't—(sotto voce murmur, Heaven forbid !)—you are aware that, long ago, Wilson Avenue proper crept slyly around the corner and achieved a clandestine alliance with big glittering Sheridan Road; which escapade changed the demure thoroughfare into Wilson Avenue improper.
— "Home Girl" by Edna Ferber, in Gigolo, 1923
The above words describe the intersection only yards from the front door of the building which is our subject, the street the building is on, and perhaps the building itself. When the auto dealership had been constructed in 1917, the buildings around it were modest. But by 1921 the Sheridan Plaza's 18 stories — at the north-east corner of Wilson and Sheridan — soared into the sky. And by December of 1923, the Chelsea Hotel's ten stories (920 Wilson) further crowded the skyline and dwarfed 935 Wilson. The entire area thickened with hotels, apartments, and businesses of every variety. And through it all a gaiety rooted in optimism… the sort of frothy economic optimism bordering on naive hysteria.
But of course we look back on the 1920s knowing how ephemeral it all proved to be. At the time, prosperity seemed likely to become an ever-increasing reality for everyone. And that showed up in our neighborhood as people went wild investing and building in this epicenter of Chicago's "Junior Loop":
Real estate prices had been on the rise in Chicago since the 1910s, but in the 1920s, inflation and fierce competition for prime locations exacerbated the problem. Prices rose most dramatically in outlying neighborhood business districts–precisely the sort of neighborhoods most desirable to chains. In these areas, the average value per frontage foot increased by 1,000 percent between 1915 and 1928. The value of one frontage foot at the intersection of Wilson and Sheridan in the popular Uptown district was $150 in 1910. By 1929, it was $5,500. (Building a Housewife's Paradise: Gender, Politics, and American Grocery Stores in the Twentieth Century, Tracey Deutsch, p. 66. Italics added).
It was in the astonishing up-valuing of the property, then, that the one-time Hudson dealership and its addresses — 931 – 933 – 935 – 937 – 939 all belong to it — became a "building of all trades." The property was simply too valuable to serve as a glorified auto lot / garage. That "build out the second floor" idea of Chinese restauranteur Chin Foin's did come to pass, whether he or someone else carried it through. The building had three floors in its front half, the third floor extending through the entire. The original mechanics shop in the building's back half remained virtually untouched design-wise and often function-wise, but much else about the building's interior was altered to create additional rooms for small businesses and even living space.
While the half of the building fronting Wilson Avenue seemed to experience some coming and going of renters, the back garage was, in some official manner, connected to the 18-story Sheridan Plaza Hotel across the street. A December 3 1922 advertisement for the Hotel notes in passing:
"Guests owning automobiles find special convenience in the location of the Sheridan Plaza Garage which is just across the street."
The garage was owned early on by one William Forman, who we know about mainly because he had quite a temper:
HUSBAND'S SHOTS ECHO OF PARTY IN NEIGHBOR'S FLAT
William Forman, owner of the Sheridan-Plaza garage, and Robert White of 5055 Sheridan road were arrested last night following a shooting affray at the home of Lawrence Smith [….] Nobody was hurt, but it took the police of the town hall station about an hour to make the arrests. (Chicago Daily Tribune, August 17, 1921, p. 5)
The long and the short of it was that Forman's wife had an argument with Mr. White, called her husband, and then things got very colorful, if harmless. Forman fired his weapon four times total but hit no-one.

The 1920s as a decade belonged to Uptown, Chicago, and the jittery energy of Wilson Avenue's shining lights. (See "Wild History (Intermission): Ben Hecht's "Nirvana.") Sometimes forgotten is the simple yet vital historical reality of Prohibition's effects upon the 1920s. Forgive the quick primer: January 29 1919 saw the 18th Amendment reach the necessary three-fourths majority for state ratification. Prohibition didn't take full effect nationally until January 16, 1920 and was repealed December 5, 1933.
Chicago, and Uptown, were at the heart of bootlegging and illegal speakeasies. 935 W. Wilson would be one of them. On and off, mostly on, the address would be associated with alcohol for over five decades.
No record exists of Al Capone or other well-known Chicago gangsters visiting the 931-39 building, but Al did visit across the street at the Sheridan Plaza and owned the still-extant Green Mill just a few blocks away off Broadway and Wilson. (The FBI Agent who ultimately would bring Al Capone down, Frank Wilson, also lived for a time clandestinely at the Sheridan Plaza!) John Dillinger owned an apartment just three blocks down Clarendon from Wilson, and his getaway down Wilson from pursuing lawmen helped net him the "Enemy #1″ badge from Chicago's constabulary. Dillinger would be betrayed in part because of a meeting he had at the S & S Sandwich Shop just three blocks down Wilson from 935′s doors. And when he was gunned down at the Biograph Theater, his remains would be brought to the McCready Funeral Home just one block south of 935 Wilson at 4506 Sheridan Road.
But Dillinger's death was a decade in the future… and Wilson Avenue was pouring bootlegged bubbly. The line between a restaurant and a tavern during prohibition was hard to define. For instance, in 1928 Leland Brian, a "bartender" at a unnamed "cafe" at 935 Wilson, perished elsewhere at the hands of a bootlegger during an argument in which Brian's live-in girlfriend was also critically wounded. Before losing consciousness because of wounds "possibly fatal" according to the Feb. 12 1928 Daily Tribune (p. 22), she tried to understand what had happened: "I was only arguing… over the kind of gin he [the shooter] brought in."
From the tragic to the mundane, 1929 style… amidst large numbers of classified ads appealing for all sorts of seamstresses and other jobs for "modern" women, there was this from an unnamed person or persons:

The phrase "shirt ironer and family ironer" leads to a conclusion that a family — and maybe more than one — was living in the building.
The twenties ended with a crash… a stock market crash and Great Depression. As that memory faded so did the glamor of Wilson Avenue. That fade from glory included 931-39 Wilson.
September 28, 1932, police raided an unnamed bar at 935 1/2 Wilson:
"Prohibition Agents, direction by Deputy Administrator A. B. Hamilton, yesterday raided a richly furnished saloon at 935 1/2 Wilson avenue, arrested Louis Heyer, the bartender, and seized some wine and liquor."
How much was "some"?
"Behind the mahogany bar the agents found the following: one gallon of wine, seven bottles of wine, 21 quarts of Old Scotch Royal whiskey, 7 quarts of port, 5 quarts of sherry, 9 quarts of Green River whiskey, 2 quarts of gin, 45 pints of Old Crow whiskey, 23 pints of Old Log Cabin whiskey, 5 gallons of alcohol, and 4 1/2 barrels of beer." (Chicago Daily Tribune, p. 9.)
That is a lot of some.
Yet even as the address slowly fell more and more often into the shady, it also served as a polling place in the 1932 electoral cycle (presidentially, the hapless incumbent Herbert Hoover was faced with Franklin Delano Roosevelt, who would win his first of four terms).
The four largest precincts [in Chicago include] the 54th of the 48th ward polling place at 937 Wilson avenue, with 917 voters. (Chicago Daily Tribune, Oct 20 1932 p. 3.)
Not much (except the matchbook at upper-right) is known about 935′s possibly first legal — post-prohibition — tavern. Muggsie McGraw did, apparently, have a 1934 bowling team. (Chicago Daily Tribune, Sept 16 1934, p. A2.) And, switching sports, it is extremely unlikely that our Muggsie is the Muggsy McGraw who played and later managed in the Majors with the New York Giants. Just in case anyone wondered.
Exactly when 935 Wilson became known as the Backstage Lounge is unknown to this writer. But the moniker would in so many ways resonate with the building's history. The legal if morally dubious things going on were, as time passed, not the things that put the Backstage (or Back Stage) in the news. Gambling, prostitution and pay-offs fueled most stories on the address from the 1930s onward.
A mid-1930s photo — just a few years after Prohibition's December 1933 repeal, doesn't reveal a "Backstage" sign — but there is a blurry hanging sign advertising a then popular beer, Peter Fox, and beneath that either "Wine and Dance" or (more likely) "Dine and Dance." That 1937 photo also reveals a barely visible but large hanging sign over the building's east entrance reading "Sheridan Plaza Garage." A barber pole, likely for a barbershop known to have been at the building's 937 address, sits just before a "Restaurant – Delicatessen" sign hanging from the center of the building.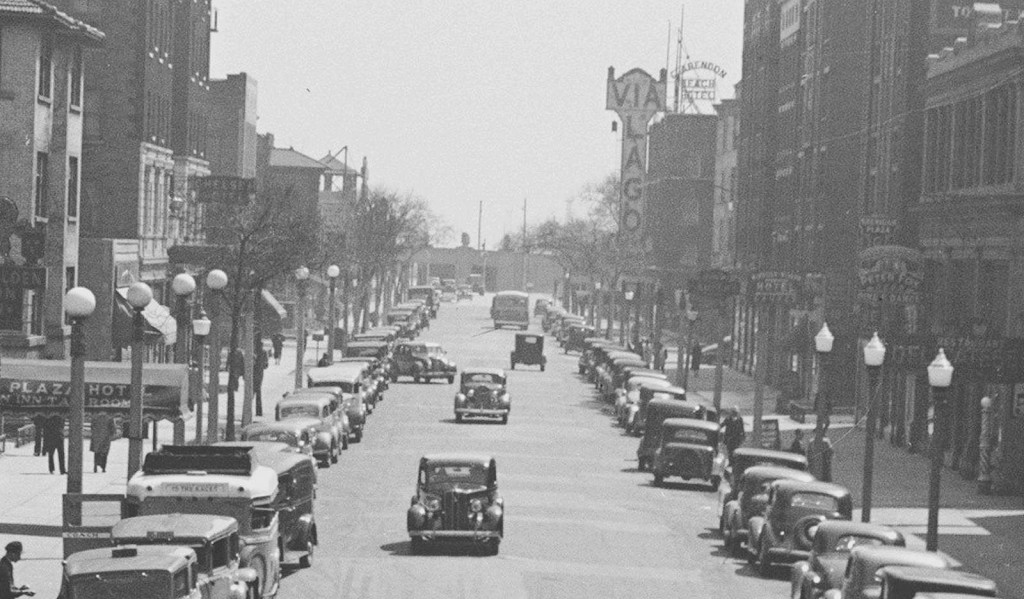 Vice always seems to come in a trinity: alcohol, prostitution, and gambling. At least, that's how it worked in Uptown… and on Wilson Avenue.
TWO HANDBOOKS RAIDED IN WILSON DISTRICT
Police from the state's attorney's office raided two more handbooks yesterday, turning the so-called fact finding expeditions to the Wilson avenue district. At 1119 Wilson avenue, on the second floor, the raiders dispersed seventy-five customers and took into custody Ross Miller, 4457 Malden avenue, the owner, and two assistants. At 939 Wilson avenue, on the second floor, they found 100 patrons. They arrested Harry Gibbons, 5011 North Wolcott avenue, the owner, and two others. The men were taken to the state's attorney's office for questioning by Assistant State's Attorney Richard B. Austin. (Chicago Daily Tribune, April 2 1938, p. 4.)
Who was Ross Miller? Mr. Miller ran another burlesque / booze / stripping / gambling joint — the Silver Palm — just two blocks west on Wilson. The Silver Palm was located beneath the L-tracks (at 1117 / 1119 Wilson where the building still exists–last we saw as a tasty Mexican fast food joint). An account of the Silver Palm, its burlesque and bookmaking operations, was written by its owner's son, one Bob Miller. The latter, in a rich irony, ended up as Governor Miller (January 3, 1989 – January 4, 1999) of the State of Nevada… the state synonymous with gambling. Bob's book: Son of a Gambling Man: My Journey from a Casino Family to the Governor's Mansion.
And speaking of gambling, back to the Backstage. Apparently those cops were angrier this time… with axes!
Ax Squads Wreck 5 More Books on Far North Side
State's Attorney Courtney's ax raiders devoted their activities yesterday to the far north side. They raided and chopped up five alleged handbooks at 5024 Sheridan road, 5063 Broadway, 5100 Broadway, 948 Eastwood Avenue, and 939 Wilson avenue. (Chicago Daily Tribune, Dec 31, 1938, p. 2.)
By the early '40s, the moniker was official. And not only that: The Back Stage Lounge had a brief and surprising appearance on the national stage via a 1944 article in LIFE Magazine. Entitled "Mayor Kelly's Chicago," the piece profiled a city that would host the national conventions of both Republican and Democratic parties that summer, and of which LIFE said: "in vitality and lustiness and sprawling disorder the city has not changed since 1870. It is just bigger and better looking." (LIFE, July 17, 1944, p. 27.)
If Chicago was better looking, that couldn't be said of Uptown, which was being increasingly abandoned by the rich and embraced by poor Appalachian whites, blacks, and the obligatory tourists slumming for a good time. And if the roaring 20s offered a sterling, flashy car dealership or even a shiny new soda and ice cream parlor, how wearily apropos that LIFE's article offered "Snooky" (below) doing her strip-tease act at 935′s Backstage Lounge–apparently in the same space (maybe even dancing on the same counter) that 1921 soda parlor once occupied (see Wild History: Part 1).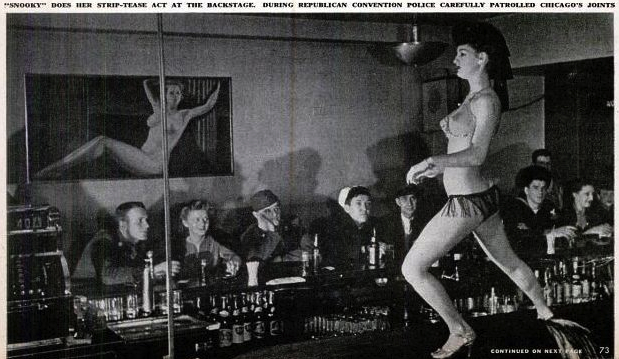 Strip-tease acts and women selling watered-down booze (sometimes worn-down bodies as well) were not the only things happening at Backstage. Raids by the cops on the gambling at 935 became commonplace. "Gambling Raids Rout 116 While 12 Are Arrested," read the Aug 29, 1943 Trib. Various joints around the city got hit, including two in Uptown:
Police from Commissioner Allman's office also raided reputed handbooks at 916 Buena avenue and 939 Wilson avenue [….] Ben Feldman and Harry Kaften [were seized] at the Wilson avenue address." (p. 19.)
939 Wilson (and the building's other addresses as well) served on and off as residences, likely on the upper floors. One of the first mentions of a resident there comes in 1946, tragically when a tailor living at 939 was murdered while being robbed at his business at another address. (Chicago Daily Tribune, Jan 27 1946, p. 16).
In 1949, 32-year old Bernard Stein, a bartender from "a tavern at 935 Wilson av., was arrested… on a charge of murder and robbery in New York in 1946." (Chicago Daily Tribune, June 27, 1949, p. 17.) He was accused of not only shooting and killing a man during the robbery but also shooting (non-lethally) a policeman during his flight.
In March 1951, Uptown's Boy Scout troop 864 sent a complaint to the Illinois liquor control commission aimed at "nine taverns in the vicinity of Sheridan Road and Wilson av." (March 18, 1951, p. 27.) The Scouts listed among the others "Backstage tavern, 935 Wilson av." The very next day the Backstage was in the paper again, this time connected to the mysterious death of one Larraine Brownstein. Edward Youmans, an 18-year-old "prowler" who was already under indictment for a hammer attack upon another woman, had been seen by neighbors apparently trying to enter a home not his. He was arrested, and then came the curious part:
In Youman's pockets police found a cartridge for a .32 caliber automatic, similar to one with which Mrs. Brownstein was slain, and a penciled note bearing the incscription "Backstage, 935 Wilson av." The Backstage is a nightclub about a mile from the apartment of Mrs. Brownstein at 711 Brompton av." (Chicago Daily Tribune, March 19, 1951, p. 1.)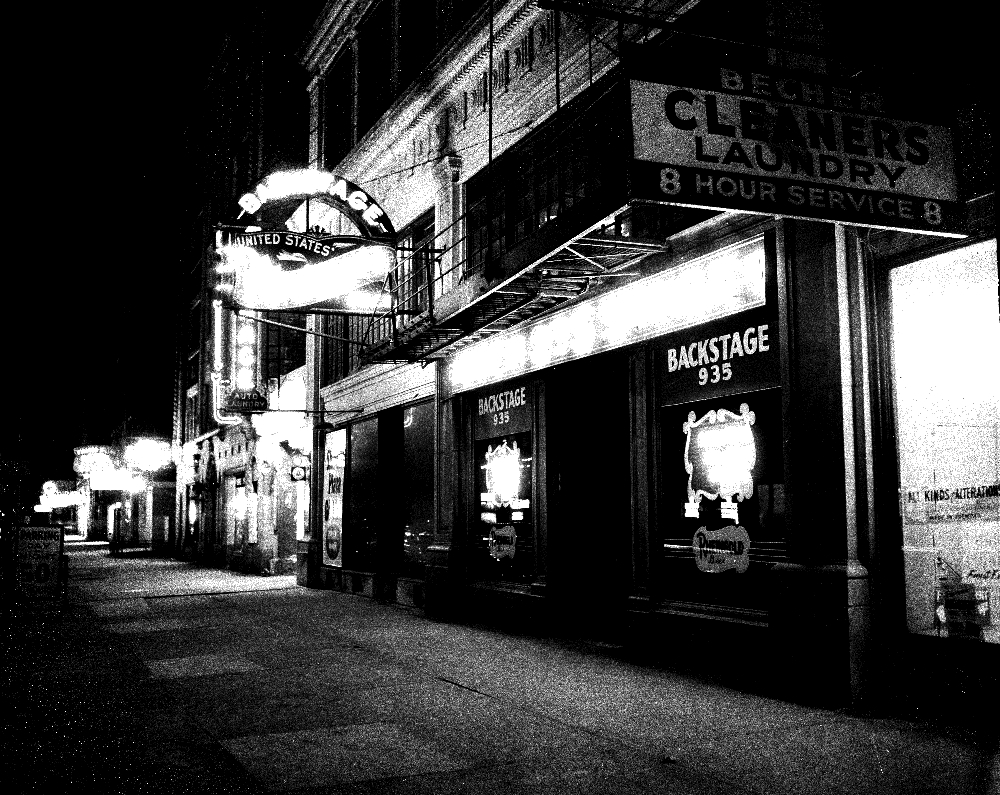 The above 1951 picture of the Backstage, now owned by the author, came from the no-longer-extant photo archives of the Chicago Sun-Times. The photo illustrates just how crowded with night spots the south side of Wilson east of Sheridan was. A dry-cleaners and laundry sign hangs over the 937 Wilson window, smaller lettering on the window — "All kinds of alterations" — hinting there may also have been a tailor in residence. Backstage takes up the rest of the storefronts east toward Lake Michigan, except for the garage sign glowing over the 931 car-sized entrance.
But what of 939? Possibly it was part of the laundry or perhaps it remained a barber-shop; one existed there into the 1970s according to some witnesses. Joe Ragont's memories of the Backstage at that time touch on this:
[T]he Jesus People USA's headquarters [sic] at 937 Wilson Ave. was the very sight of my father's barber shop. I spent countless hours there after school and summers and cleaned it on a weekly basis. Ironically, above the barber shop was a bookie joint, and next door was a strip joint called Backstage. As a youngster I used to amble out the back door of the shop and wonder what was going on in Backstage, where their back door was always open. (Uptown Chicago History offers more of Joe's reminisces.)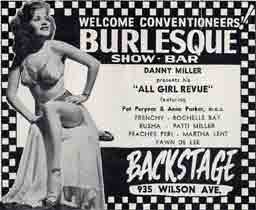 Again in 1951, September 16th's Tribune reported:
OWNER HAS NO LICENSE: CLOSE STRIP CABARET
Capt. Thomas Kelly of Town Hall station closed the Backstage, a strip tease cabaret at 935 Wilson av., yesterday when he discovered it was not being operated by the licensee, Garrett Meade. Kelly said that Meade sold the place to Joseph Brown, 60, of 915 Wilson av., and that Brown operated under Meade's license. Police ejected 75 patrons and book Brown on state and city charges of selling liquor without a license. (p.5)
Legit businesses still functioned in the building… or wanted to. In 1947 a manufacturer gained city approval regarding "a shop for assembling electrical appliances at 939 Wilson." (Chicago Daily Tribune, June 29, 1947, p. N3.) That business is not named, but by 1951 Ajak Manufacturing Company (appearing to be a maker of photographic equipment) was listed in residence at 939. Just a year later another company sought permission (a "variance") to use the same address:
Seek Job Printing Shop in Wilson Av. Garage
The city zoning board took under advisement last week a request for a job printing shop at 939 Wilson av., a business district. The shop, which requires a commercial use, would be on the 3rd floor of a brick garage building. The public garage would continue to operate. (Chicago Daily Tribune, June 1, 1952, p. N2.)
Soon afterward, the city rejected that proposal. The article lists no reasons. As far as 931 Wilson's address (the one that had been the garage but more and more seemed a part of what was happening via the Back Stage) an M. L. and E. D. Horner are listed in 1953 as doing business there. What kind of business isn't listed.
So-called "book-making" operations were part and parcel of 935 W. Wilson but also some of the other addresses assigned to the building. This photo of a wall painting later discovered by the Jesus People USA — it was in a back room behind 937 Wilson's door — is undated, leaving us to guess its age.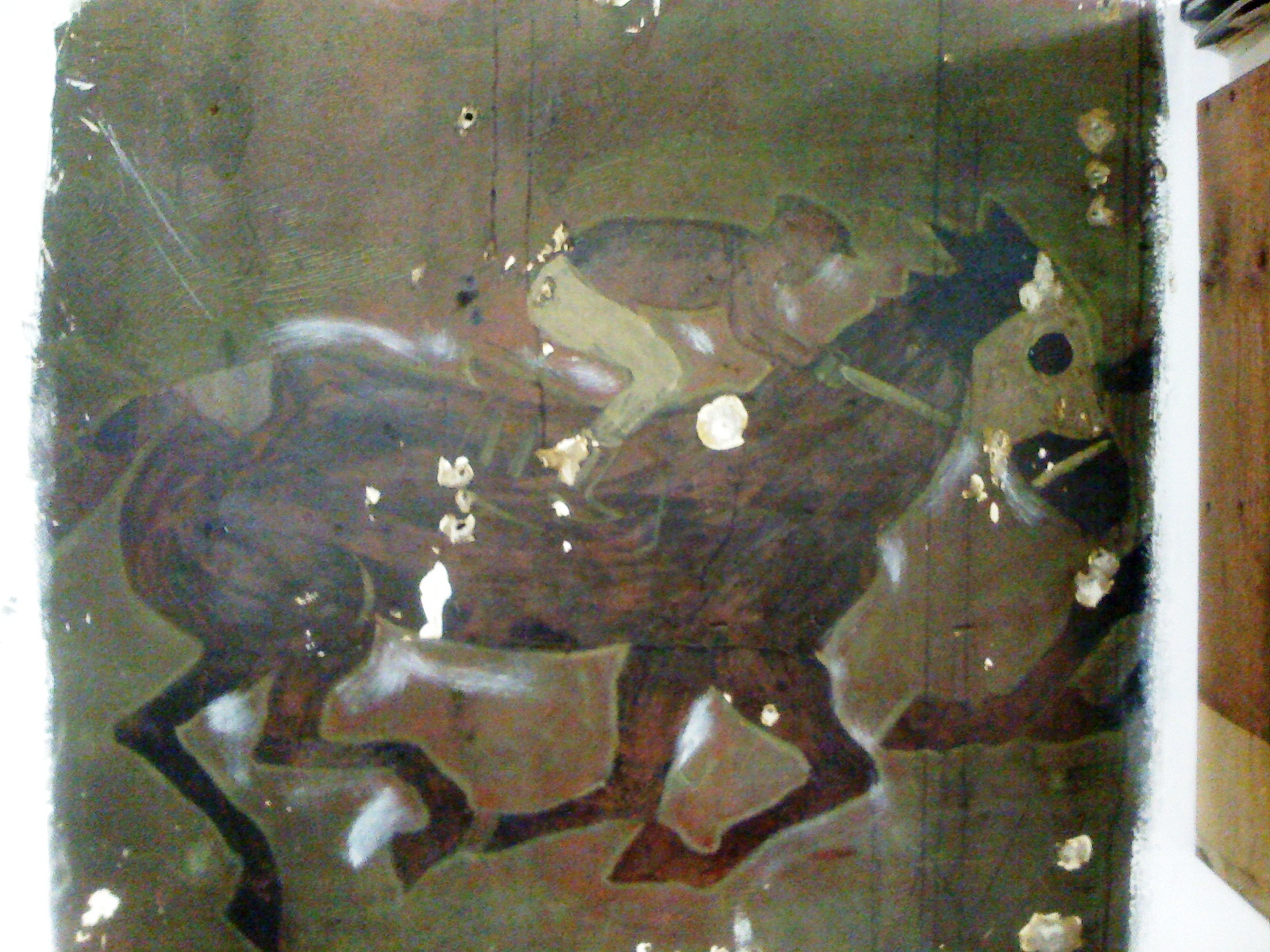 Prostitution would remain a problem as well:
Raid Wilson Av. Bar; Seize Two as B-Girls
Capt. John McCarthy of Town Hall police station and Detectives Ralph Fivelson and James Fitzgerald raided Back Stage, a saloon at 935 Wilson av., early yesterday and arrested Alicia Lee, 22, of 915 Wilson av., and Susan Graffeo, 29, of 1140 N. La Salle st., on a charge of soliciting drinks. The raid was made after Detective Elmer Valentine, recently assigned to the Town Hall station, spent several nights observing activities in the saloon. (Chicago Daily Tribune, Sept. 27, 1953, p. 25.)
And — exhibiting one evidence of this author's faith in the second-stage feminist critique of pornography (the latter being what the strip-tease business is) — there was the January 26 1955 Trib article about three men involved in raping a woman.
Ramos told police that the three had met at the Backstage lounge, a saloon at 935 Wilson av., and were on their way home when they saw the woman in the street. Police said Ramos admitted grabbing the woman first and forcing her into the car (p. 17).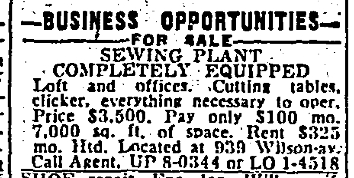 Upstairs in 939, a sewing plant was apparently in operation. In mid-1960 it came up for sale in the Tribune's classifieds (left). Again showing the complexity of just how many different businesses — often at the same time — used 935 Wilson as their address, the April 13 1963 obituary of William Schayer notes "he had for 20 years owned a restaurant at 935 Wilson av." (Chicago Tribune, p. S11.)
That restaurant may have been the same one mentioned as being at 937 Wilson a few years earlier (October 25, 1956). In the newspaper account is one of the few recorded instances of gunfire in 931-939 itself:
COUPLE SEIZED IN SHOOTING OF TAVERN PATRON
Thomas E. Brewster, 29, and his wife, Margaret, 20… were held yesterday in the shooting of Harold Claiborne, 22, a machinist of… Des Plaines, in the kitchen of the restaurant at 937 1/2 Wilson av. (Chicago Daily Tribune, p. 21)
The article explains that Brewster followed him from the tavern "at 930 Wilson," called out to him and shot him. One suspects that the Tribune, who more than once botched area addresses in their reporting, meant the adjoining 935 Wilson instead.
Not everything was negative as the 1960s bloomed. Literally around the corner from 935 W. Wilson, in 1964 a local chapter of Students for a Democratic Society founded and sustained JOIN (Jobs or Income Now). JOIN's offices were just off Wilson at 4533 N. Sheridan. Todd Gitlin, author of "The Sixties," was involved with JOIN and other progressive forces then fomenting social and racial change in Uptown much as was happening around the country. Gitlin and co-author Nanci Hollander during their time at JOIN wrote "UPTOWN: Poor Whites in Chicago." President Johnson's "War on Poverty" had been joined, but in Uptown it seemed more like Poverty was winning; gangs organized racially, with groups such as The Rebels (complete with Confederate Flags) against black gangs and others such as the Latin Kings. Meanwhile, the suspicion grew that speculators were hovering over Uptown's dilapidated but fascinating aging buildings.
September 10, 1966, the news item is entitled "Police Seize 17 During Raid on N. Side Lounge":

Lt. Robert Arnow said three of the policemen were solicted for drinks by three women, who also tried to engage them in lewd acts. Linda Darrell, 49, Lorraine Wilson, and Alischa King, 25, were charged with soliciting drinks, public indecency and being inmates of a disorderly house.
Hy Mozner… and Jack Spiegel… were charged with being keepers of a disorderly house. (Chicago Tribune Sept 10, 1966, pg. A16.)
Four bartenders and eight dancers were also charged.
One resident, S. Pearce, who lived in the Uptown area offered a brief snapshot of the Backstage during the mid-1960s:
There was a small diner adjacent on the west side of the Backstage from around 1964-6 with a door inside that opened into the burlesque theater. I think the manager used to sit behind the front counter of the diner at the cash register, read the newspaper all day, and smoke a cigar; happening by, one would see him through the window; he put me in mind of Jack Ruby.
The third-floor garage yet again turned up in the news May 20, 1969. "Indict Ex-policemen in Theft," the Tribune headline reported, going on to note: "A former Chicago police captain, a former patrolman, and two brothers were indicted yesterday by the county grand jury for alleged operation of an auto theft ring" (Chicago Tribune, p. B11). "Investigators said that involved in the case are thefts of eight cars which were serviced in the Plaza garage, 1931 Wilson Ave" (The 1931 being a typo for 931).
Prostitution was such a problem at Wilson and Sheridan that the police tried the then-novel approach of having police women masquerade as prostitutes in order to arrest "Johns" who dared avail themselves of the fake prostitutes' services. ("Police Try to Scare Away Patrons of Street Walkers," Chicago Tribune, Dec 24, 1973, pg. 75.)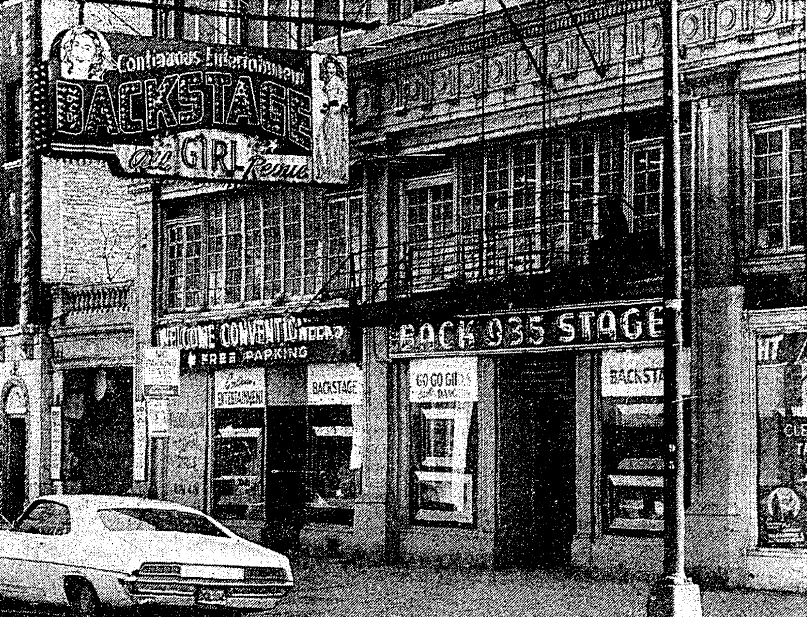 But prostitution of a sort by police was not fake, but real. The ugly collusion between Chicago police and criminal elements apparently — at least for a time — centered at 935 Wilson. March 2 of 1973, the Back Stage Lounge was raided by a special then-new unit dedicated to uncovering police misconduct. The Tribune reported extensively on the spectacular results:
Investigators report uncovering payoff center for shakedowns
"A North Side lounge has become the payoff center for police shakedowns of tavern operators in at least two police districts, according to an extensive undercover investigation.
"The investigation and a subsequent raid of the Back Stage Lounge, 935 W. Wilson Av., by Chicago police squads also convinced investigators that toverns continue to operate illegally with police knowledge and payoffs, despite continuing pressure and the federal indictments of more than 40 policemen."
"Deputy Police Supt. Mitchell Ware said his C·5 undercover unit also found:
• Evidence that the continuing federal investigation of tavern shakedowns has forced dishonest policemen to become more circumspect in their shakedown schemes.
• A master scheme by taverns operated by the crime syndicate to cheat on federal, state, and local taxes.
• Juggling of corporate records by the crime syndicate to hide the true ownership of taverns, night spots, and cafes.
• Valuable intelligence for the police assigned to the activities of the crime syndicate.
• Extensive credit and background checks being made by the hoodlums on wealthy socialites and businessmen who patronize their operations.
SURVEILLANCE of the Back Stage Lounge by both government agents and the Chicago undercover police, acting independently, established that police from North Side districts are frequent callers there.
Investigators say a former Chicago policeman ·who frequents the place was identified to them as the "policeman who would check them out" when they broached the subject of payoffs.
"The boss always takes care of policemen," the undercover men said they were told by a bartender, who added, however, that they would first have to be checked out by "that man at the bar-he's a copper."
The boss is identified as Donald Joseph Hammond, 54, an ex-convict who is known as a crime syndicate terrorist and a lieutenant of Leonard Patrick and the late Ross Prio, North Side chiefs for the syndicate.
Hammond, who also operates a hotel in Quincy, Ill., was an old friend and associate of the late Frank [Buster] Wortman, a mob boss in the East St. Louis area for many years.
"The man at the bar" was identified as Edward Walsh, 38, of 4B52 W. Diversey Av., a policeman for 14 years who resigned in 1971 while under suspension. He now is an auto salesman.
HAMMOND, HIS son, Donald R., 36, of Chicago Heights, and Walsh were among 21 persons arrested in the lounge in a raid led by Ware. Also arrested were a bartender, 11 women, and seven men with whom the women allegedly had performed sexual acts in booths in a large, dark room at the rear of the lounge.
Ware said corporation records list Donald R. Hammond as the owner of the lounge, but that it is actually run by his father, who was carrying a notebook that listed the names, addresses, and phone numbers of nine Chicago policemen when he was arrested.
The notebook also listed the names and unlisted telephone numbers of several top figures in the crime syndicate, notations of juice, or high-interest loans, and what Ware called "other valuable intelligence."
When taken to his office in the rear of a storage·room, tbe elder Hammond swiftly kicked shut the door of a safe, investigators said. A police expert opened it and reported finding another list of names, addresses, and phone numbers of policemen.
The safe also yielded detailed information on the corporate setup of a number of hoodlum-operated taverns thruout the city and gave police valuable information on how the crime syndicate masks its ownership, Ware said.
RECORDS INDICATED that the Back Stage Lounge did a $60,ooo-a-week gross business and kept two sets of books, one for tax purposes. That one indicated the gross income was only half of what it really was, investigators said.
Seventy boxes of cash register tapes were found. Investigators who studied the lounge's operation said that bartenders rang up sales on two rolls, one of which was correct, and that the other cut all sales in half.
Records showed the women who worked there earned an average of $400 a week hustling drinks at $1.50 each and so-called champagne at $22.50 a bottle and performing sex acts with customers who included wealthy socialites and lawyers, as well as conventioneers.
The champagne was found to be wine that had been cut with four parts of water to one part wine, at a cost of 17 cents per bottle to the lounge.
A stable of call girls also apparently operated out of the lounge. The police raiders reported finding a portfolio of more than 50 women, in various stages of dress, from which customers could select a companion.
A MONTH-LONG investigation of the lounge was considered so important that it was supervised personally by Ware and Police Supt. James B. Conlisk Jr.
The undercover policemen discovered the lounge is equipped with a red light, set on a ledge near the front, that a bartender could turn on if an "unfriendly" policeman entered. It was a signal to women in the rear room to halt activities with customers there, investigators said.
Chicago undercover investigators throughout their work were unaware that for some time the Back Stage Lounge had been under surveillance by federal agents as a suspected central payoff spot for policemen still on the shakedown circuit. (Chicago Tribune, March 11 1973, p. 3.)
Or, as the Tribune put it a month later, this time more succinctly:
[T]he tavern was serving as a payoff center for police. They [special unit] arrested 21 people, including 11 reputed call girls, and found several notebooks listing the names, addresses, and telephones of both hoodlums and policemen. (Chicago Tribune, April 8 1973, pg. 49.)
The theme of bad cops continued in 1974, when the Backstage's owner — the same afore-mentioned Donald R. Hammond — was indicted by a federal grand jury for his alleged possession of $1.5 million in stolen municipal bonds and $90,000 in stolen cigarettes. He'd already been found guilty of, and locked up in Leavenworth for, a related crime of stealing nine million Indiana cigarette stamps worth an estimated $650,000. Two other men, not surprisingly including one Chicago policeman, were also indicted. (Chicago Tribune, April 23, 1974, pg. 13.)
One might find both humor and pathos in the fact that during much of the above activity, a Christian fellowship — Jesus Is the Answer Church — shared the 935 Wilson address with the Back Stage, residing there from 1972 or '73 up until 1982 when the church changed addresses. (Chicago Tribune, May 6, 1982, p. N1.) Why had the church left? Said Rev. Ezele White, "because supposedly it wasn't zoned for a church." Only in Chicago could a building housing a den of illegality go on unmolested for decades, yet a church opened in the same building could be ejected over esoteric zoning laws!
But regarding the Backstage, the public was increasingly fed up. Bob Weidrich of the Tribune vented that growing frustration in a testy 1974 editorial:
Efforts fail to Close the Sodom of Uptown
The Backstage Lounge on Wilson Avenue has been the Sodom of Uptown Chicago society for over 30 years.
The first time we ever viewed its diimly lit interior was on an undercover vice investigation more than two decades ago. It was a sleazy dump then. It remains so today, thanks to crazy legal interpretations of Illinois liquor control laws.
For no matter how hard the City Fathers try to flatten the place because of prostitution, crime syndicate connections, subterfuge to hide the clip joint's true ownership, and other assorted ills, the law continues to thwart their efforts. It is as tho the place had a license to steal.
That's why you'll still find this sewer open at 935 W. Wilson Av., with its aging neon Go-Go Girl lights flickering every night as taxicab-loads of suckers from the Loop convention centers stumble thru its portals–even tho Mayor Daley has twice instituted liquor license revocation proceedings against its owners in the last two years.
Weidrich offered a quick primer on a 1969 Illinois Supreme Court decision making the revocation of liquor licenses more difficult. He then returned to 935 Wilson:
Now, to place the Backstage Lounge in proper perspective, one must examine its heritage and tradition. The place has been raided by police almost as often as patrons have been jackrolled, the least of the lewd acts performed there.
From modest beginnings as a bust out striptease parlor and afterhours joint, the Backstage has evolved into a crudely sophisticated flesh emporium preying on well-heeled conventioneers, businessmen, and local socialites in search of erotic kicks.
The editorial ends with the observation that Mayor Daley intended not to renew the Backstage's liquor license when it was due to expire April 30, 1974.
The end of an era was in sight.

WILD HISTORY, Part 3 has been posted; WILD HISTORY, Part 1 and Part 2 (this page). IN ADDITION, don't miss three "Literary Asides" about our immediate neighborhood around Wilson and Sheridan from: One – Ben Hecht, Two – Edna Ferber, Three Henry Justin Smith.