From its inception in 1917 as an auto dealership (Wild History pt 1) to its lengthy misuse as a strip club and gambling joint (Wild History pt 2), Uptown Chicago's 935 W. Wilson Avenue has been resurrected.
Jesus People USA purchased the building in the early 1980s, but as a community of Christians not only serving the poor but living at poverty level themselves, patience was the watchword as far as fully utilizing 935. Initially it served as JPUSA's Lakefront Roofing company's headquarters. Later, it would house Cornerstone magazine, Grrr! Records, and various other JPUSA ministries and businesses.
February 2014, the doors of a building completely gut-rebabbed were opened to the public. JPUSA had at long last created the neighborhood hub long envisioned. It was, after some lively discussion, christened "Wilson Abbey." Included within is a neighborhood center (also functioning as JPUSA-ECC's Sunday service sanctuary) with an auditorium for concerts, a theater, and a number of offices / conference rooms for short and long term renters. The Project 12 Discipleship Training School (Official site) has its classroom located there, and Grrr Records / Tone Zone Studio also call Wilson Abbey home.
There is a long history regarding Jesus People USA and having a Church sanctuary home. JPUSA has always viewed its calling as being outward ministry rather than inwardly huddling together. (Though JPUSA members live in intentional community, our church services have always been open to anyone who wished to attend regardless of whether or not they are JPUSA members.) Our outward ministry focus, along with the always / ongoing monetary challenge of living together in community, led to JPUSA having church in various places over the decades, from a storefront called "Mountain of Spices" on Halsted Street to an old Church on Barry Street we had to give up, from a combination dining room / shelter at night / sanctuary on Sundays in our 4707 Malden building to the Buena Presbyterian Church which we rented until during a rainstorm its roof collapsed destroying the structure (thankfully no humans!), rented space in the nearby Joan Arai High School, and — I trust you grasp the idea. At one point in the 80s or so even what was to become our CCO Homeless Shelter on Clifton Avenue briefly served as a sanctuary on Sundays. So, to finally have a community center that also serves as a church home is quite a thing for us, and we are massively grateful to our denomination, the Evangelical Covenant Church, for their dreaming with us all these years.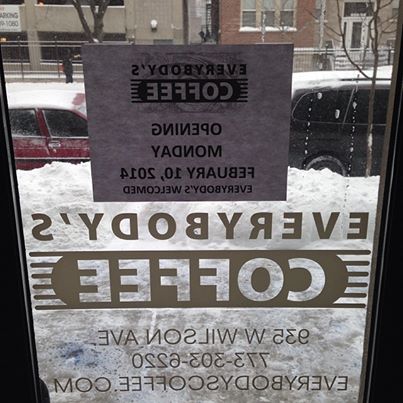 At the heart of the sparkling new Wilson Abbey building is Everybody's Coffee, a state of the art coffee shop and bakery goods nirvana (menu). Everybody's Coffee, which one wag labeled "a coffee shop for the proletariat," uses decor from other historic structures, including some beautiful 1920s brickwork tossed away by the nearby Sheridan Plaza. It now adorns Everybody's counter base. Tables include some incredible hewn logs covered with resin. The space is large and leaves plenty of room for local artists; currently featured is Jesus People USA's own award-winning artist, Janet Cameron, whose work will be on display through the early part of April.
You are urged to drop in on Everybody's and perhaps snag a free sample of their bakery goods (they aren't always out for snagging, but you could beg).
More links:
Wilson Abbey's Facebook Page
Wilson Abbey Official site
Everybody's Coffee Facebook Page
Everybody's Coffee Official Site
Chicago Architecture blog article on Wilson Abbey
<